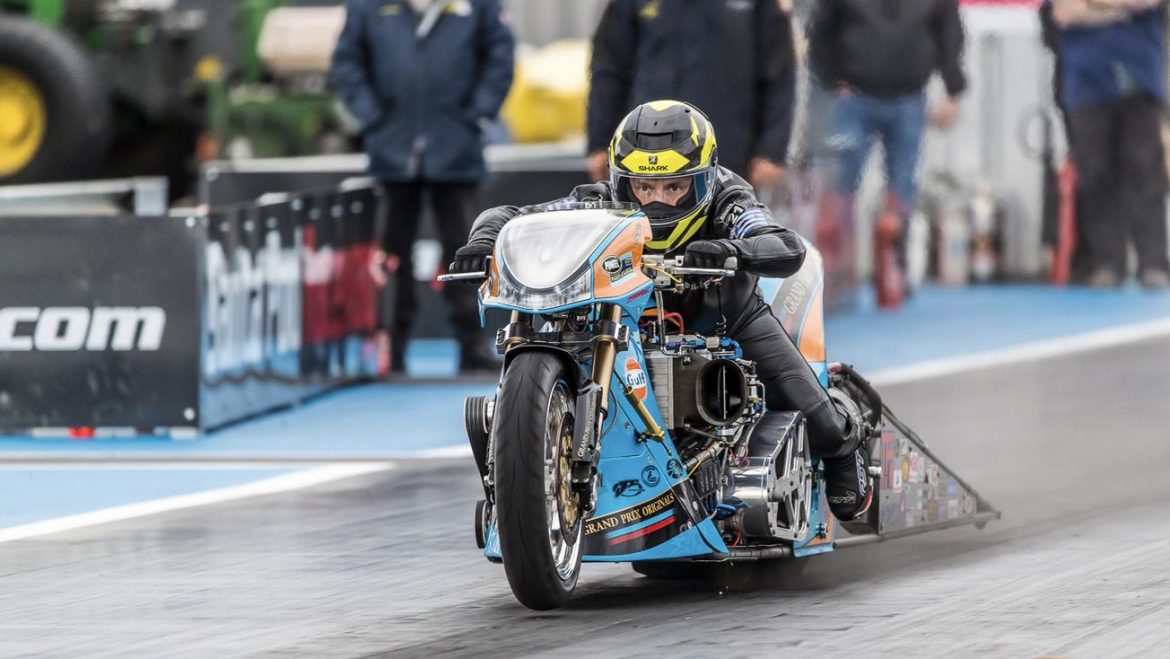 Gulf Oil Drag Racing star, Filippos Papafilippou – AKA Fast Fil – has been crowned FIM European Top Fuel Motorcycle champion after a nerve-racking finale at Santa Pod, Great Britain.
The Greek rider follows in the footsteps of predecessor and King Racing Team Principal, Ian King, who himself won the championship 10 times during his illustrious career.
Fil went into the final round of the season, an event which attracted in the region of 30,000 spectators, with a healthy lead at the top of the standings with 175 points – 68 above French rival, Eric Richard, and 77 clear of Swedish rider, Richard Gustafsson.
However, Fil had to endure an anxious wait after failing to line-up at the first eliminator after he failed to stop the Gulf Oil bike on the high-speed run of qualifying and he bailed from the motorcycle just before the end of the track, with the bike and rider coming to a halt in a field at the end of the drag strip.
Fortunately, Fil escaped with just bruising, but the bike, such was the damage sustained, could not be repaired in time for the first eliminator. Despite the disappointment, Fil and the team actually extended their lead over Richard, with the Frenchman also enduring a tough weekend, to secure an 11th FIM European Championship win and a first with Fil at the helm.
This season has proved to be another incredible one for King Racing, Gulf Oil Drag Racing and the amazing 1,500BHP bike, which, since its inception, has always been raced in Gulf colours.
Fast Fil will be back on the bike in 2019, where he will be hoping to defend his Top Fuel title.